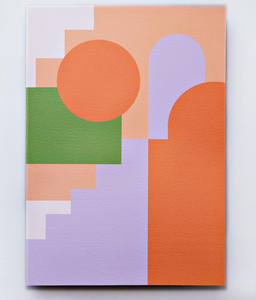 This is a lovely soft cover notebook. It features an abstract Labyrinth-inspired print, and a contrast lilac coloured inside cover. All the inside pages are lined, and features little triangles in the bottom corners for page numbers.
This A4 size (21cm x 29.7cm) book is made by a family run music book maker right here in the U.K., and the inside sheets are made from music sheet paper. The soft cover is a luxurious, textured 250gsm G.F. Smith card and it has 80 pages of 90gsm Munken paper.
The Completist was founded in January, 2018 by husband and wife duo Marko and Jana based in Peckham, London.
Inspired by art, fashion and history and united by their love of good design, The Completist is well-known for their unique combinations of print, colour and beautiful products. From cards for every occasion to their popular lay-flat notebooks, they have something for every design-conscious stationery lover.
But good design doesn't stop with the final product which is why they go the extra mile to make sure The Completist 'experience' is as sustainable as possible – all their paper goods are made from FSC certified paper and come in biodegradable film bags. The rest of the packaging is made from FSC certified card or recycled paper, and 90% of the range is made in the UK using small, independent manufacturers.