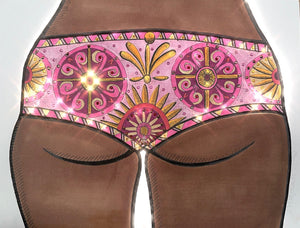 Polly Banks is a London based fashion stylist.  
Now that we're looking for ways to enjoy some of the sparkle while  slowing down the way we consume fashion Polly has turned her  philosophy of beauty to create this limited edition of crystal  embellished bottoms.  
These bums are all about embracing & celebrating  our differences in size and all of our imperfections in the illusion of  vintage prints and aesthetics.  
Original, hand drawn pieces in ink and coloured with high quality  pro markers that do not fade and trimmed with Swarovski crystals  that reflect the light. Each piece is unique, signed and numbered from  an edition of 38.
They come mount boarded and wrapped
dimensions 210 x 297mm
£110.00

Polly's images have been featured in The Face, GQ, The Guardian,  Observer, Vogue and in Paul Gormans book, "The story of The Face'  and the 2015 publication Love X Style X Life by Garance Dore and  the British Fashion Councils exhibition and bold "Look At Me'  
Styling work and photography projects have also been seen in the  exhibition North, Identity, Fashion at the open Eye Gallery and in the  Victoria & Albert Museum show Imperfect Beauty and Tokyo Jam at The barbican