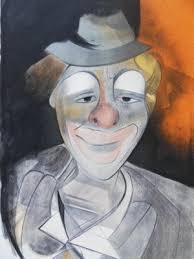 Camille HILAIRE - Little Hat Clown (1916-2004)
A French painter and weaver from Metz. He attended the Ecole des beaux Arts in Paris.He was awarded the Prix de Venise in 1948 and the Prix de la Casa Velaquez in 1950.He held his first exhibition in Paris in 1951 at the Gallerie Valloton.Camille Hilaire is subtle in his composition. He did away with efficient structures, he held power with colour and achieved a wonderful, consistent sense of calm, amplitude and greatness by translating patterns and elements, 
Over time, a dozen monographs have been devoted to him as well as documentaries and films. He leaves behind a large body of work, stamped with the seal of seduction. Hilaire has strongly influenced the French painters of the mid-twentieth century.
Technique: Lithograph( 1970's)
Paper: Japan Paper
Signature: signed in pencil
Dimensions: 53cm x 37cm (21 x 15 inches)