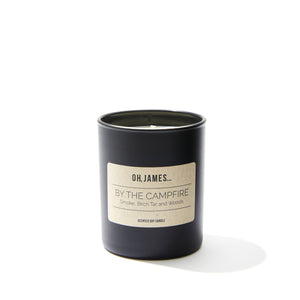 As the weather starts to cool down,  it looks like James is By The Campfire this time.....
By The Campfire is a beautiful blend of smoke, birch tar, and a variety of smouldering woods.  Not for the faint of heart, this scent combination is strong, smoky, and very sexy!  This scent is bound to conjure up cozy memories of sitting by a smoky campfire.  

OH, JAMES... candles are handmade and hand poured in small batches in London. Each candle is made with clean-burning, 100% non-GMO natural soy wax, and various combinations of fine fragrance and essential oils. The wicks are 100% cotton, pre-waxed, lead-free, and self-trimming, ensuring a clean burn and excellent scent throw. Housed in a bespoke translucent matte black glass jar, your OH, JAMES... candle will be a great addition to any room in your home.  Our travel candle offers the same great scent, in a gorgeous smaller, portable tin. 

OH, JAMES... candles come packaged in a textured, heavy duty, beautiful matte black box, making them the ideal gift!
Glass Candle Details:
180ml/6.3oz.
Burn time: 35-40 hours
Travel Candle Details:                                                                              100ml/3.5oz.                                                                                                          Burn time: 17-20 hours
Vegan Friendly

To get the best results from your OH, JAMES.... candle, allow your candle to burn for 3-4hrs the first time you light it and/or until the entire wax surface has melted completely. Never burn for longer than 4 hours at a time, and always make sure to pull off/trim your wick to 5mm.

Candle Safety Information:

Never leave a burning candle unattended. Burn candle out of reach of children, pets, and drafts. Always leave at least 10cm between burning candles. Do not burn candles on or near anything that can catch fire. Container will get hot. Only use on a level heat resistant surface. Do not burn for more than 4 hours at a time. Do not allow the flame to touch the container. Always trim the wick to 5mm before lighting each time to avoid damage. Extinguish when 5mm of wax remains and do not relight. 

Any potential allergen information available upon request.