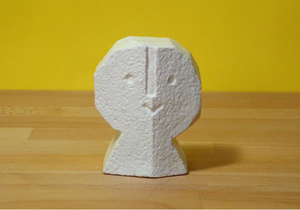 Slip-cast earthenware head with an off white matt glaze.
Approx size:
Width 62mm x height 76mm x depth 47mm
Unlimited edition
Each ceramic is signed.
After studying illustration at the University of Wolverhampton, and graduating in 2000,  Peter produced freelance illustrations for a variety of clients. Before exhibiting his paper-cut pictures and mixed media models at museums and galleries across the UK.
Peter recently developed a passion for making ceramics which are now his main focus.
He is influenced by mid century modern design and inspired by the work of sculptors Barbara Hepworth, Henry Moore and ceramicist John Maltby.