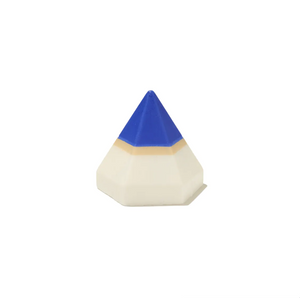 From the innovative Parisian Seem Soap Studio, the Vertige collection brings the art of product design to an everyday object. Made by hand using a vegetable soap base and formulated with natural ingredients and organic pigments, Vertige No.2 has a light Sweet Almond scent and together with its colourful tones and sculptural design elevates it from humble soap to object d'art.

Dimensions: Length 9cm, width 9 cm, height 9 cm. Materials: vegetable soap base. 180g. 

About the brand:
Seem Soap is a design studio based in Paris and co-founded by Mathilde Lehman and Valentine See in 2015, with a modern approach to the humble bar of soap. Designed as an object d'art, each sculpture will vary with time and use. Every product is developed and hand crafted in their Parisian workshop, using a vegetable soap base, are free from parabens. Pigments are organic and perfumes are allergen-free.