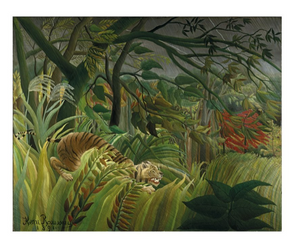 Henri Rousseau. Tiger in a Tropical storm. Surprised.
This print is colour matched to the original and approved by the National Gallery.
:
Matt paper 250gsm conservation digital paper. A very versatile high quality paper made in Germany from acid and chlorine free wood pulp. The paper is manufactured on a Fourdrinier Machine, a process first perfected by and patented by the Fourdrinier brothers in 1803.
Dimensions Print size 40cm x 50cms
Paper size 50cm x 60cm