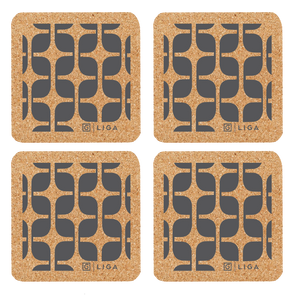 Organic cork coasters with classic Hornsea designs. A collaboration with the iconic Hornsea; grown in Portugal, hand printed in Cornwall.
These placemats come as a set of 4.
Sustainable Materials
Cork is harvested naturally without harming the tree. The cork oak forests in Portugal offset ten million tonnes of carbon every year. It continues to absorb C02 
Care
Clean with Damp Cloth
Our printed placemats & coasters are designed for use with warm-to-touch plates only as the ink used in their production does not provide heatproof capabilities.
Size
10 x 10 cm
Plastic Free Packaging