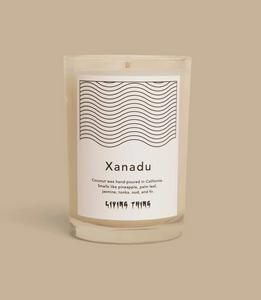 Xanadu - Smells like pineapple, palm leaf, jasmine, tonka, and fir.Smells like a tropical paradise with an otherworldly touch. Pineapple mingles with smells of the sea and lush green jungle like a favorite vacation destination while fir adds unexpected freshness 
7.5oz – will burn for roughly 40 hours.
 Living Thing pours small-batch coconut wax candles inspired by life. Using clean ingredients so you can feel good about burning candles in your homes.  All Living Thing candles are vegan, cruelty-free, phthalate-free, and petroleum-free.
 Weight: 499 g (1.1 lb)
 Never leave lighted Candles unattended