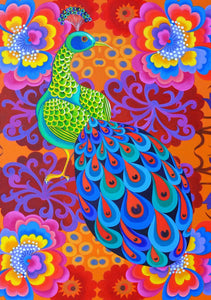 This image is taken from an original oil painting and is inspired by the Chinoiserie wallpaper in Brighton Pavilion and some fabric I saw in a Brussels antiques market.
Blank inside, 13 x 18 cm.
Printed in the UK on FSC certified 300 gsm card, with a silk finish. 100% recyclable.
Supplied with an orange coloured envelope.
Can be used as a print and framed afterwards.
A lovingly designed British-made product.